Parasol, sail, awning: which sun protection is the right one?
In addition to the classic parasol, sails and, more recently, awnings have become the most popular shade providers in our gardens and on our balconies and terraces. Which sunshade is right for you depends above all on the place to be shaded and, of course, your requirements.
Parasol, sail or awning in comparison
| | Sail | Awning | Parasol |
| --- | --- | --- | --- |
| Look | Aesthetic and elegant (with appropriate quality) | Classic | Aesthetic and elegant (with appropriate quality and size) |
| Shading | Effectively shades large areas without needing floor space itself | Shades rather manageable areas, e.g. a small balcony or a seating area close to the house wall | With the appropriate size of the parasol, large areas are shaded; can "move with the sun" when mounted in a mobile position. |
| Mounting | At least three fixing points necessary | Always to be fixed to the house wall | Numerous mounting options - stationary or mobile |
| Flexibility | Low | None | High |
Parasol, sail or awning in detail
Parasols - the all-rounders when it comes to sun protection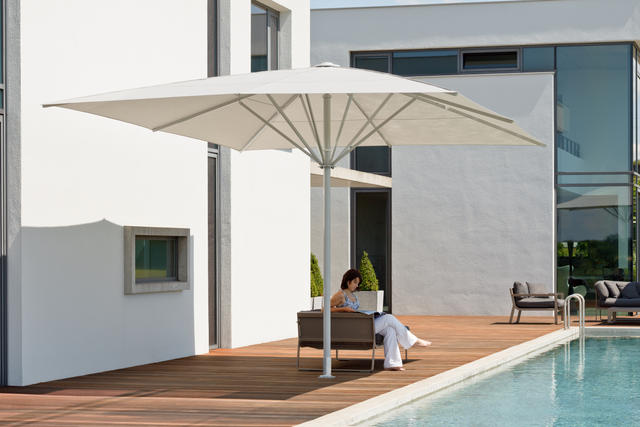 Parasol SCHATTELLO 3,0 x 5,0 m
First things first: not all parasols are the same. There are not only numerous variants of shapes and sizes on the market, but also considerable differences in quality and workmanship. If you think carefully about the requirements that the shading solution must meet before buying and are prepared to invest in a high-quality product, you will very likely find the ideal solution in a commercial parasol.

Depending on preference and installation location, parasols can be installed in a fixed location or set up flexibly thanks to mobile mounting options.

Parasols from MAY can also be equipped with technical highlights such as motors for automatic opening and closing, infrared heaters, lighting, USB charging stations or speakers.

At MAY you will find high-quality commercial parasols with a surface area of up to 75 m² that are designed for professional use - for example in gastronomy. MAY also offers you its parasol models for your home terrace, garden or balcony. Whether it's a side pole parasol or center pole parasol, round, square or rectangular, from 8 m² to 75 m² surface area - at MAY you'll find a well thought-out selection of professional parasols "Made in Germany" that exactly meet your expectations.
Sun sails: Airy shade providers, less flexible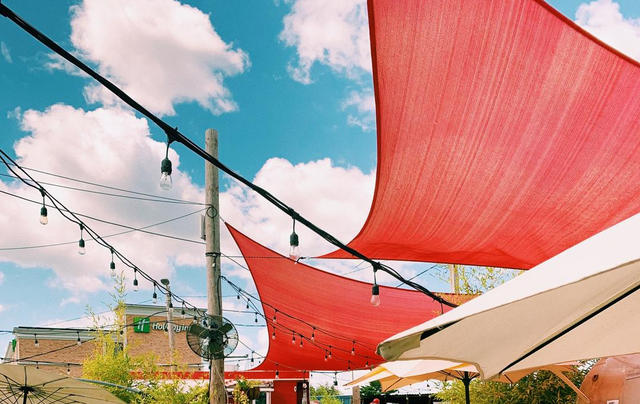 Sun sail
Whether directly on the building, on the terrace or in the garden - a sun sail is aesthetically pleasing and can effectively shade large areas. In addition, a sun sail does not require any floor space. However, you need at least three attachment points to mount a sun sail, which can quickly become a problem on some small balconies. Once stretched, the sail offers little flexibility, as dismantling is usually more laborious than with a parasol or awning, even though roll-up sun sails are now available.
Awnings: An option for terrace or balcony with limited options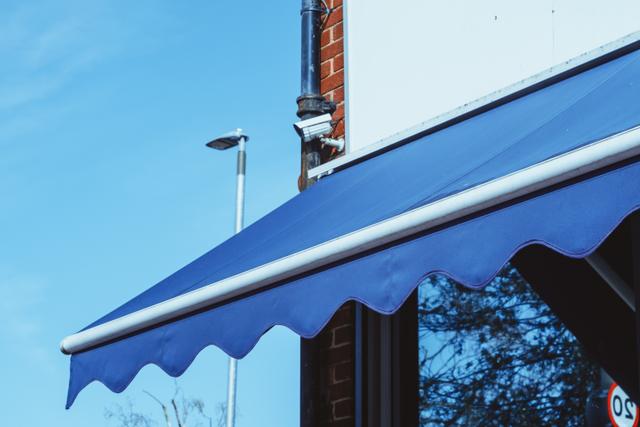 Awnings
Awnings have been used for decades as sun protection on terraces and balconies, especially if they are rather small. Awnings can be extended and retracted quickly and provide pleasant shade. Their big disadvantage is their lack of flexibility - an awning always has to be fixed to the wall of the house and can neither be set up in another place nor used in the garden or any other open space.
---
Our parasols