Parasol, sail or awning: Which type of sun protection is the right one?
Along with the classic parasol, awnings and, for some time now, sun sails have become some of the most popular sources of shade in our gardens, as well as on our balconies and patios. Which type of sun protection is the right one for you depends, above all, on the area needing shading and, of course, your own requirements.
Comparing parasols, sails and awnings
| | Sail | Awning | Parasol |
| --- | --- | --- | --- |
| Look | Aesthetic and elegant (with appropriate quality) | Classic | Aesthetic and elegant (with appropriate quality and size) |
| Shading | Effectively shades large areas without needing floor space itself | Shades rather manageable areas, e.g. a small balcony or a seating area close to the house wall | With the appropriate size of the parasol, large areas are shaded; can "move with the sun" when mounted in a mobile position. |
| Mounting | At least three fixing points necessary | Always to be fixed to the house wall | Numerous mounting options - stationary or mobile |
| Flexibility | Low | None | High |
Parasols, sails and awnings in detail
Parasols – the all-rounders when it comes to sun protection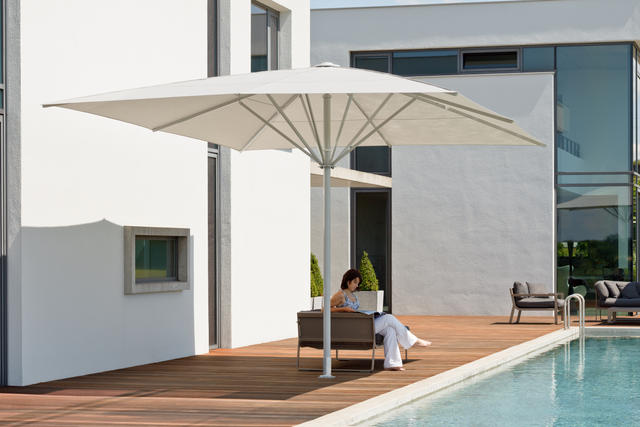 Parasol SCHATTELLO 9' 10" x 16' 5"
Let's start with the most important aspect: A parasol is not just a parasol. The market not only offers all sorts of differently shaped and sized models, but also considerable variation in terms of quality and workmanship. Those who carefully consider which requirements the shading solution needs to fulfil before making a purchase, and is prepared to invest in a high-quality product, is more than likely to find a large parasol an ideal solution.

Parasols can be installed in a fixed location to suit both personal preferences and the place of use, while mobile base solutions also allow more flexible placement options.

Moreover, parasols made by MAY can be equipped with technical highlights such as a motor for automatic opening and closing, an infrared radiant heater, lighting, a USB charging station or loudspeakers.

MAY has high-quality large parasols measuring up to 807 ft² in size, which have been designed for professional use – in the hospitality industry, for example. The different parasol models available from MAY are also suitable for your patio, your garden or your balcony at home. Whether a cantilever or centre pole parasol, round, square or rectangular, with an area from 8 m² to 75 m² – at MAY, you'll find a cleverly curated selection of professional parasols 'made in Germany' which cater exactly to your requirements.
Sun sails: A breezy source of shade with less versatility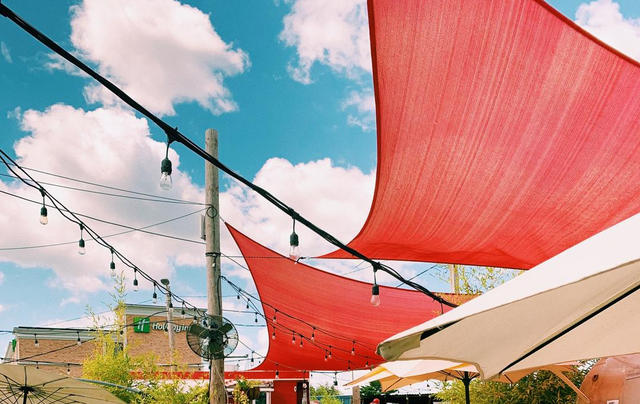 Sun sail
Whether directly on a building, on the patio or in the garden – a sun sail is aesthetically pleasing and can effectively shade large areas. What's more, a sun sail doesn't take up any space on the ground. However, installation of a sun sail requires at least three attachment points, which can quickly become a problem on a balcony without a whole lot of space. Once it has been set up, a sun sail doesn't offer much versatility, as taking it down usually involves a lot more work that a parasol or awning would, even if there are now sun sails available that can be rolled up.
Awnings: An option for patios or balconies with limited options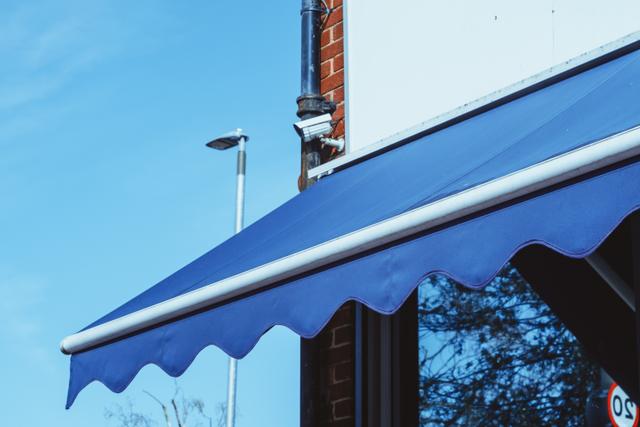 Awnings
Awnings to provide protection from the sun on patios and balconies – especially ones that are on the small side – have been around for decades. Awning are quick to extend and retract, and provide a pleasant source of shade. The main drawback of awnings is the lack of variability – an awning is always secured to the wall of a building, meaning it cannot be set up at a different spot for a change, nor be used in a garden or another outdoor area.
---
Our parasols