Smart Home for parasols: Technology highlights for shade providers
Smart home solutions and home automation systems are growing in popularity for a reason. MAY offers an extensive range of modern, state-of-the-art accessories with which all MAY parasols can be equipped on request. The uncomplicated operation and increased comfort are convincing. Technical accessories provide additional atmosphere, extended functionality and playful fun.
European Parliament Strasbourg
React to the weather at the touch of a button or fully automated
There's no such thing as bad weather in your location
A balmy summer day, the waiters hurry from table to table on the busy terrace of the restaurant, and suddenly a summer thunderstorm breaks over the guests. It's easy to get hectic when all the parasols have to be cranked up by hand so that the guests don't flee from the rain. Motorised parasols offer the ideal solution: at the touch of a button or very simply by remote control or app, the parasols open - individually, in groups or all at the same time. The electric motors can also be easily and simply connected to an existing home automation system or an adjustable wind sensor. Read more here.
For more comfort and safety at home
Of course, this also works the other way round and in the same way in the private sector: the parasol closes quickly and without effort at the push of a button. In combination with a wind sensor, this is a real added value in terms of ease of use, because the parasol should be closed quickly, especially in strong winds. This extra can also be connected to an existing smart home system - an additional security when you are not at home. Make sure it is compatible with your automation system before you buy. Read more here.
Parasol accessories - individual and innovative
Play of light and colour: LED lighting on the parasol
Modern LED technology is always used in the additional equipment of parasols. Be it in cost-effective and flexible battery operation, or thanks to fixed wiring in connection with home automation systems and apps. Varied colour plays in all facets of the rainbow are possible in both cases. On request, MAY parasols can be equipped with RGB-W LEDs in the colours red, green, blue and warm white, including dimmer; they can be controlled via Bluetooth,
free app
or remote control. This makes the MAY parasol an eye-catcher even in the dark.
Read more here
.
For more well-being: Infrared radiant heater
Infrared heaters
For those who want to be warm under the parasol on cold days or cooler summer nights, infrared radiant heaters are the perfect solution. Within seconds it is cosy and warm under the parasol. This tempts you to stay longer. Radiant heaters are also perfect for a quick warm-up after swimming or splashing around. Or for year-round furnishing of smoking areas in front of restaurants, cafés and bars.
Read more here
.
Sound for even more atmosphere: integrated speakers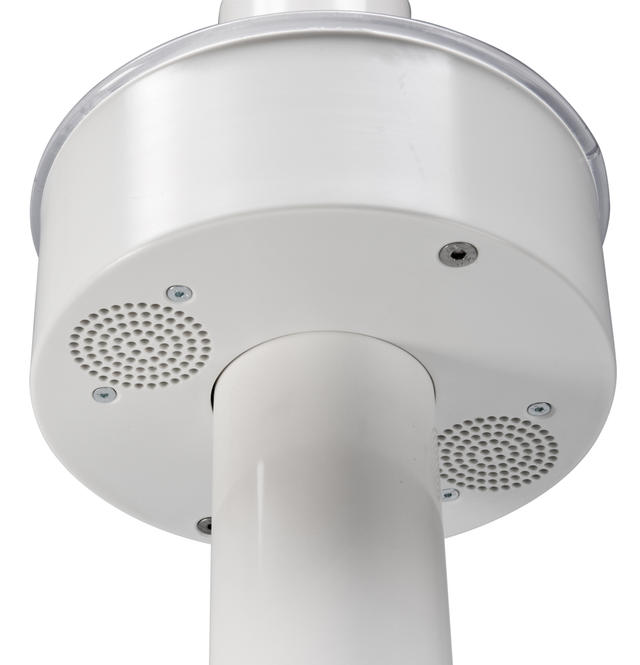 Speakers
Both on your own terrace and in commercial use, spending time under a MAY parasol is even more fun when the parasol is equipped with a fine sound system. Of course, everything has been considered in the MAY parasol speaker system: from protection against precipitation and theft to the unchanged comfortable closing of the parasol.
Read more here
.
Our parasols with electrics and smart home