Buying a MAY Parasol: For commercial and private customers wherever they are in the world
MAY has always relied on partnerships with experienced specialist retailers with industry expertise for the sale and distribution of its parasols. This not only allows us to ensure that you receive individual and objective advice, but also that you have a local contact partner wherever you are in the world. We are more than happy to put you in touch with your specialist retailer, without fuss and no obligations. Would you rather spend some time reading about them at your own pace, or obtain a clearer idea for yourself? Then ask for our catalogue.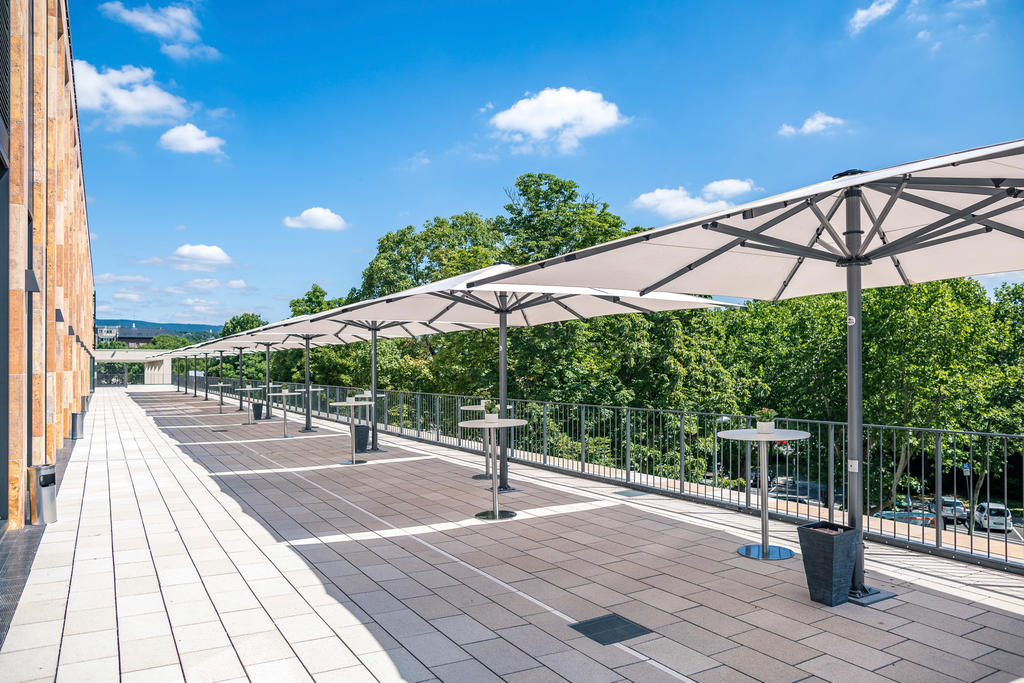 ALBATROS 13' 1" x 16' 5"
An investment in your success: MAY large parasols for commercial customers
Cleverly furnished outdoor areas are a key factor in the success of, for example, cafés and restaurants. Proprietors who opt for hardwearing, user-friendly and aesthetically pleasing parasol systems are investing in their own success.

Public facilities such as kindergartens, childcare centres, schools, colleges, universities and educational institutions signalise their awareness of quality and sense of responsibility when they have large parasols made by MAY.

Companies can create attractive break areas and quiet zones for their employees with MAY Parasols by setting them up near the company cafeteria, for example.

So too do large parasols from MAY offer the perfect combination of design and versatile functionality in the recreation and event areas.

The purchase of high-quality large parasols certainly reaps rewards. A large range of different high-quality solutions 'made in Germany', individual advice and customer service that you can depend on are part of the package when you purchase from MAY.
For more than just the summer: MAY Parasols for private customers
For more than just the summer: MAY Parasols for private customers Have you made your home in a great house with patio and garden or a beautiful flat with a balcony? Then use your outdoor space naturally as an extension of your living space.

The high-quality parasols from MAY will make your life even more inviting and easy: The investment is worth it, because quality 'made in Germany', comprehensive advice and professional customer service ensure you'll benefit from your parasol for years to come. We promise you weather-resistant durability, optimal sun protection, high-quality design and state-of-the-art functionality.
We have the right parasol for every purpose
Our parasols