Buy MAY parasol: For commercial and private customers worldwide on site
MAY has always relied on cooperation with experienced specialist dealers who know the industry to distribute its parasols. In this way, we not only ensure that you receive individual and independent advice, but also ensure that you have a local contact person worldwide. We will be happy to put you in touch with your local specialist dealer in an uncomplicated and non-binding manner! Would you like to take your time beforehand or develop a more precise idea? Then ask for our catalogue.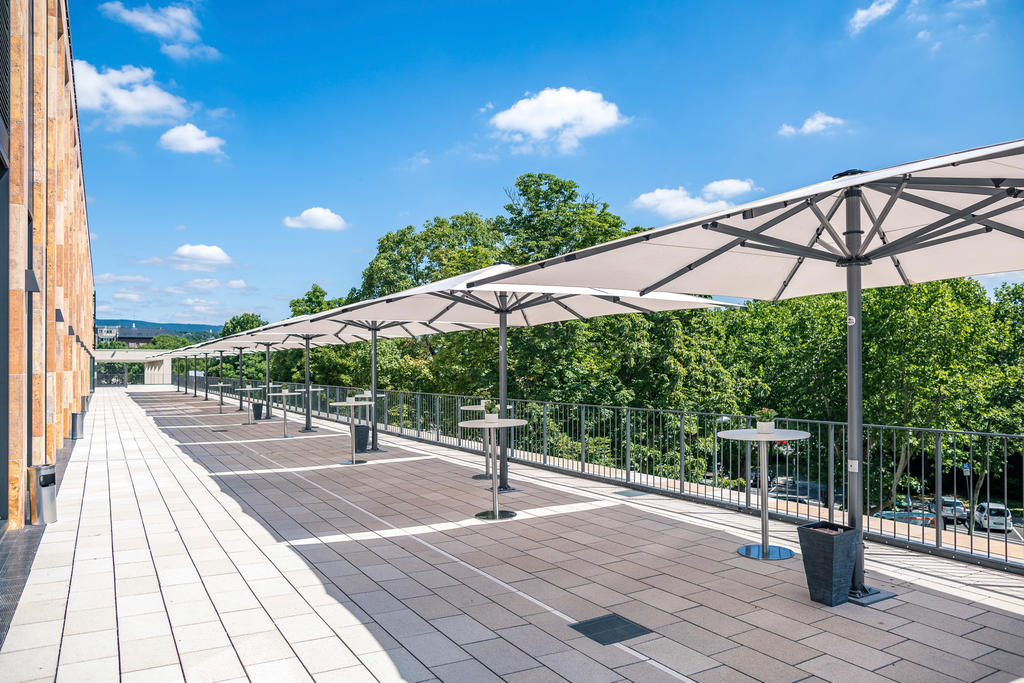 ALBATROS 4,0 x 5,0 m
An investment in your success: MAY parasols for commercial customers
Thoughtfully equipped outdoor areas are important success factors for restaurants, for example: anyone who relies on durable, user-friendly and aesthetic sunshade systems here is investing in their own success.

Public institutions such as day-care centres, schools and universities signal a sense of quality and responsibility with commercial parasols from MAY.

Companies use MAY parasols to create attractive break and rest zones for their employees, for example in the vicinity of a company canteen.

MAY commercial parasols also offer the perfect combination of design and flexible functionality for leisure and events.

The purchase of high-quality commercial parasols pays off. A large selection of different quality solutions "made in Germany", individual advice and reliable customer service are all part of MAY.
For more than one summer: MAY parasols for private customers
You come home, in a great house with a terrace and garden or a beautiful flat with a balcony? Then use your outdoor space naturally as an extension of your living space.

With quality parasols from MAY, you make life beautiful and easy for yourself: the investment is worthwhile because you will enjoy your parasol for many years thanks to quality "Made in Germany", comprehensive advice and professional customer service. We promise you weather-resistant durability, the best sun protection, high-quality design and state-of-the-art functionality.
We have the right parasol for every application
Our parasols