Large parasols from MAY for your event: Tried and tested outdoors, and representative
Equipping the outdoor areas of upmarket venues with high-quality large parasols is an idea that will bring all sorts of benefits: Set up at the entrance, elegant large parasols make an inviting impression – when combined with high tables, stylish receptions and get-togethers can held regardless of the weather. Large parasols provide visitors with protection from the sun and shelter from the rain. When the corresponding technical accessories are used, they will elevate your location above the rest – for organised events, business functions and private celebrations.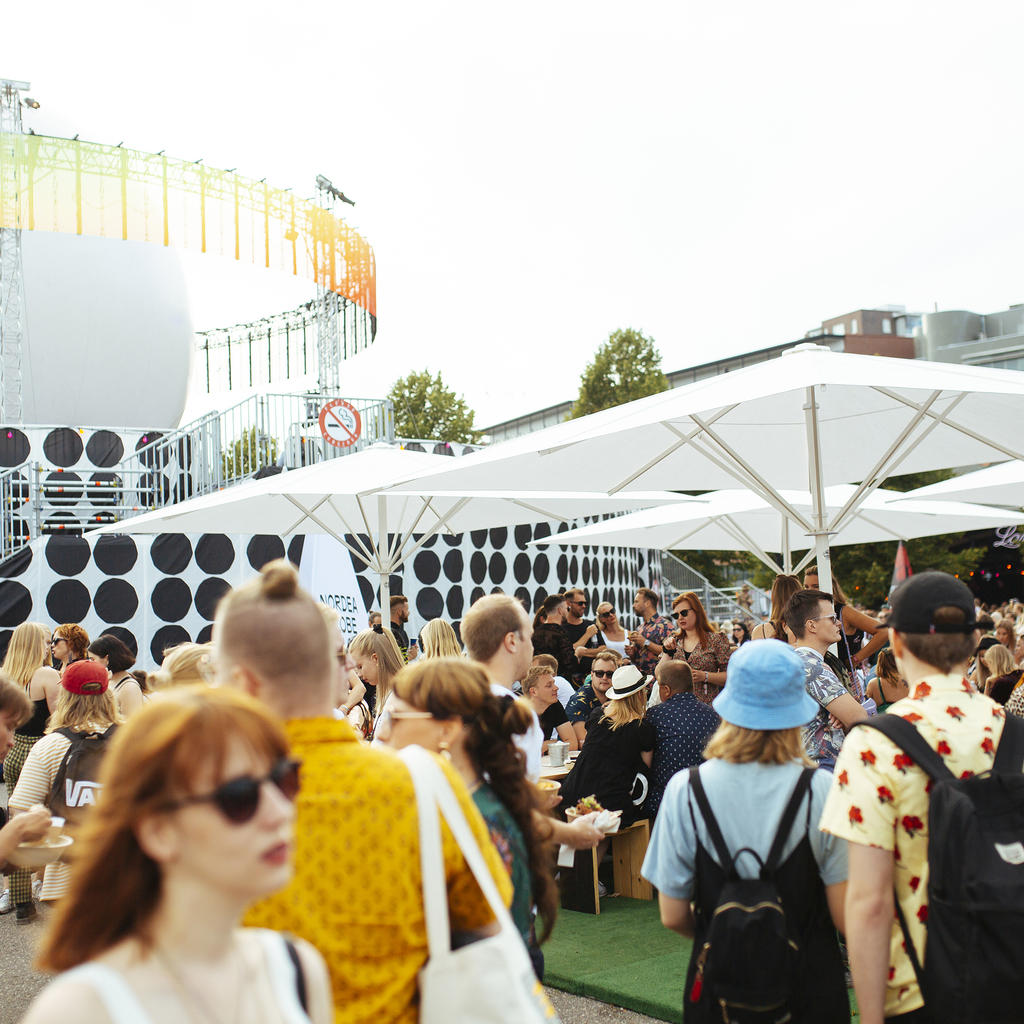 SCHATTELLO 11' 6" x 11' 6"
Designed for the hospitality industry – and ideal for recreation and events
Click here to read more about the benefits of MAY large parasols 'made in Germany' for cafés and restaurants – the parallels to the event industry should be self-evident.


The basic structure is extremely hardwearing, stable in the wind, and robust
The canopy receives top marks when it comes to weather and lightfastness; it is water repellent and tested in accordance with the strict UV protection standard.
Use is intuitive and easy
Cleaning is straightforward, repairs are easy to carry out
Clever technical accessories open up even more uses for the parasols
Technical highlights for successful events
Infrared radiant heaters for outdoor functions continuing late into the night, modern LED lighting for a special flair, loudspeakers for a musical accompaniment, USB charging stations for guests who need to stay connected – we have real technical highlights to equip your large parasols with, should you like.
Highly recommended for your events: Centre pole parasol FILIUS
We're aware that each event has its own particular requirements, and that every customer wants something different. Our parasol model FILIUS allows you to retain full flexibility at your location: FILIUS is our most compact parasol. It nonetheless gives you the choice between 10 different sizes and three different shapes. FILIUS weighs less than 20 kg, ensuring it is easy to set up and take down as often as necessary. Parasol bases are a clever addition.
Highest expectations of comfort and safety
As an event organiser, you need to keep a thousand things in mind, and answer to people at every turn. Every event you organise comes with a huge responsibility! When you invest in MAY large parasols, you'll have one less thing to worry about:
The materials MayTex Poly and MayTex PVC are waterproof – and suitable for use outdoors even when the weather's poor. One more thing you and your guests don't need to worry about!
Of particular importance for you as the organiser – and a matter of course for MAY: All our textiles are classified as fire retardant or inflammable in accordance with a number of European standards.
All our fabrics have been tested and approved in accordance with the current strict UV protection standard (UV801), earning top marks.
MAY Parasols with high-quality printed advertisements
Our extensive range of colours is guaranteed to include a hue that suits your venue. In addition, we are happy to use our high-quality printing process to print your parasols exactly the way you want them.
---
Suitable parasols
---
Do you have any questions or feedback?
Please use our contact form, write us an email, or just give us a call. We're looking forward to being able to help you!