FILIUS – The small parasol that's big in quality
FILIUS is the smallest of our centre pole parasols. This parasol for the hospitality industry and retail use is only small when it comes to its dimensions – in terms of quality, convenience of use, design and stability, in contrast, the FILIUS is a top performer in our parasol collection.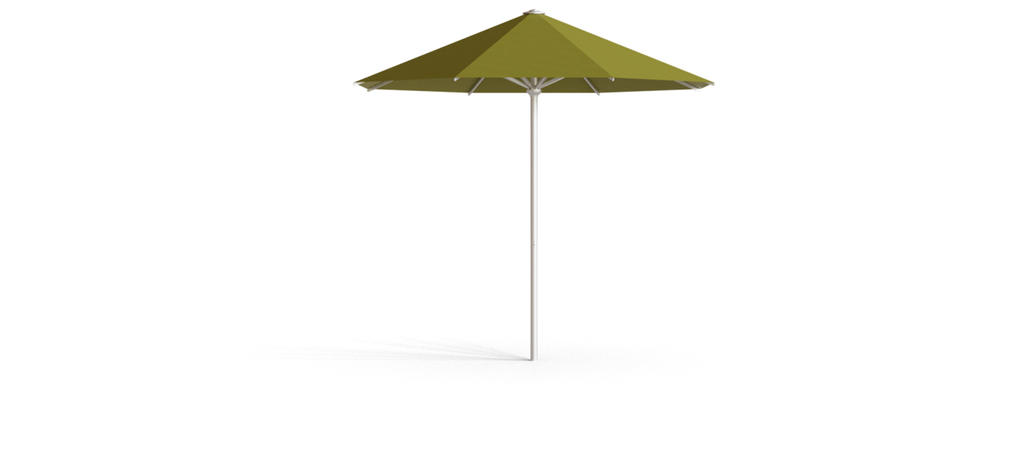 The advantages and benefits for you
Optimal use of your outdoor area/patio, with models that come in 10 different sizes (round, square, rectangular)
Round parasol with an area of up to 118 ft², or a square parasol up to 129 m²
Available with a cable pull and crank lift
Can be moved, and is easy to transport, with the right parasol bases
Centre pole parasol (not telescopic) with all-weather protection function
Suitable to be set up and taken down every day. The low weight makes it easy to carry, and it can be moved using the wheeled pedestals
Excellent UV protection of UPF40 to UPF80 in accordance with the standard UV801
The entire parasol fabric collection has been fully tested in accordance with UV801
Durable and robust parasol ribs (aluminium parasols), all parts available to purchase as spares
Frame made of high-quality, extruded aluminium alloy profiles, made in Europe
Hardwearing corrosion protection provided by polyester powder coating
Canopy with a hardwearing and self-tensioning telescopic spring system
The canopy is quick and easy to replace
Three different valance versions
Also available in a model with a 'pagoda parasol' design
All parts optimised for care and maintenance
Extremely sturdy and durable
The parasol canopy and valance can be printed (screen print and digital print)
Extensive accessories (see below)
Delivered ready to set up
All parts available for purchase as spares and for repair there and then
Product details
Its lightness makes FILIUS a particularly popular way to provide protection from the sun at outdoor cafés, at markets, as a shelter at events, or for use for decorative purposes. FILIUS is, of course, also an attractive parasol for use in the garden or on the patio at home. The centre pole parasol FILIUS is optionally available with a cable pull (FILIUS FS) or with a crank lift (FILIUS FK).
Technical data
FILIUS -
1.5 x 1.5

Metres

-

Square
Shape

Square

Dimensions

Ø

1.5 x 1.5

m

Segments

4

panels
Area

2.3

m²

A
Height when closed with valance

259

cm

B
Height when closed without valance

259

cm

C
Headroom with valance

200

cm

D
Headroom without valance


from spoke edge

220

cm

E
Valance height

18

cm

F
Ground clearance


(with valance) from spoke edge

148

cm

G
Ground clearance


(without valance) from spoke edge

148

cm

H
Crank height

92

cm

Diameter of parasol pole
Ø

5.5

cm

Pole thickness

0.25

cm

Weight without packaging


MayTex-Acryl without valance

15

kg
Length of packaging


cardboard sleeve Ø 25 cm

307

cm

Weight of packaging

7.5

kg
Foundation


length/width/minimum depth

50 / 50 / 60

cm

Minimum ballast


number of concrete slab layers XZ49

1 x ~ 72

kg
All information about heights refer to parasols with a MayTex Acryl canopy and which are set up in an anchor tube (DMZ118, DMZ146, DMZ150). Dimensions for other means of securing parasols change as follows:
| | | |
| --- | --- | --- |
| Cross pedestal | DMZ110 | + 2.4 in |
| Full frame pedestal | DMZ411 | + 3.5 in |
| Full frame pedestal | DMZ412 | + 4.7 in |
| Full frame pedestal | DMZ414 | + 6.3 in |
| Full frame pedestal | DMZ420 | + 7.5 in |
| Granite base | DMZ141 | + 3.9 in |
| Wheeled pedestal | DMZ282 | + 5.5/5.9 in |
| Anchor plate | DMZ261 | + 1.6 in |
| Base plate | DMZ271 | + 4.7 in |
Intermediate dimensions and custom sizes upon request. Dimensional tolerances ±5%.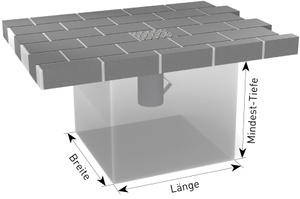 3D image of a foundation with a winter cover. Create a frost-proof foundation and increase its size accordingly if the ground is poor.
Do you have any questions or feedback?
Please use our contact form, write us an email, or just give us a call. We're looking forward to being able to help you!