Parasols for the hospitality industry from MAY will make your outdoor dining area a success
Enliven your open-air eatery with parasols for the hospitality industry from MAY: Restaurant and café owners use elegant large parasols to create an inviting outdoor dining area for their guests. The parasols do a whole lot more than provide protection from the sun: They make a space pleasant and atmospheric, and complement the appearance of the premises. They also provide the benefit of making your outdoor dining area suitable for use in the spring and autumn, and can also be used to create outdoor smokers' corners that are protected from the wind and weather.

All MAY Parasols for the hospitality industry can be optionally equipped with state-of-the-art technology using practical accessories that increase the functionality, usefulness and aesthetics even further: by adding atmospheric lighting, a heater or side panels as a wind break. So too will USB charging stations, loudspeakers or high tables tempt your guests to linger for longer and order another drink.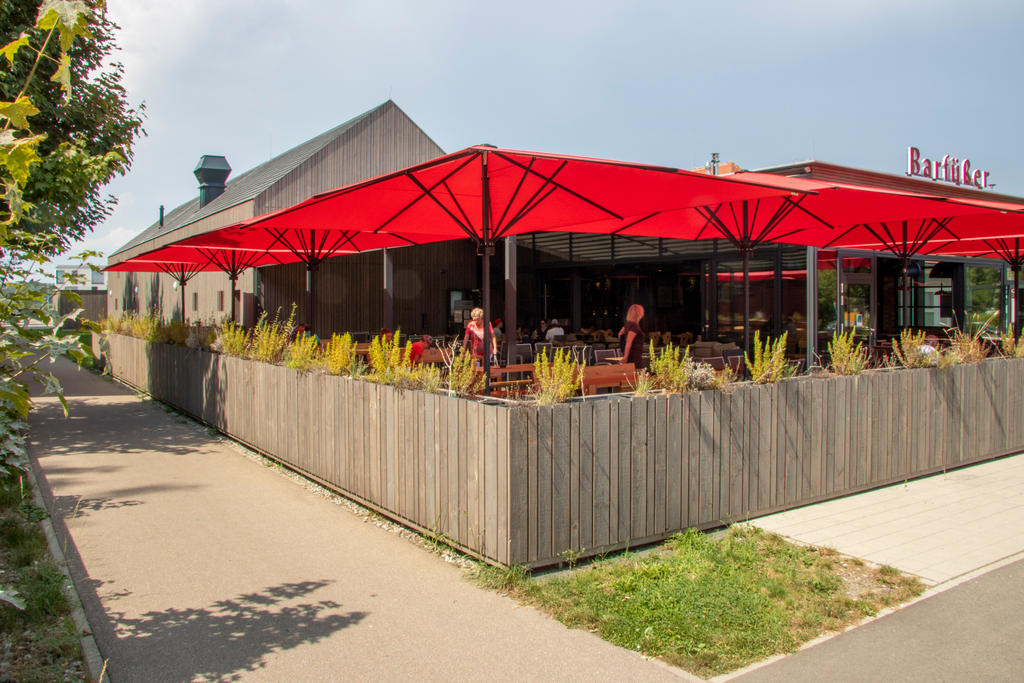 SCHATTELLO 13' 1" x 16' 5"
The right café and restaurant parasol for your location
MAY has exactly the right parasol for the hospitality industry to offer for all types of spaces, every environment, and every design concept: Classic large parasols, practical rectangular parasols and square parasols, or trendy triangular parasols are featured in the product range, as are compact cantilever parasols or large centre pole parasols with diameters of up to 32' 10" – all suitable for the hospitality industry.
Hardwearing parasols for the hospitality industry, made in Germany
MAY Parasols for the hospitality industry 'made in Germany' unite durability and versatility.
The basic structure is extremely robust, stable in the wind, and hardwearing
The canopy is water repellent or waterproof, tested in accordance with the strict UV protection standard and retains its colour for years to come (tested for weather and lightfastness)
The operation is intuitive and easy
Cleaning and repair are both very user-friendly
Quality from Germany promises decades of longevity, and the parasols are largely maintenance-free. We guarantee you can continue to rely on excellent availability of spare parts for years to come. MAY still delivers spare parts and replacement canopies for parasols made during the company's early days (1980s), even today!
Quality parasols for the hospitality industry for more than 30 years
As Europe's largest manufacturer of professional large parasols for upmarket requirements, MAY has been a faithful partner to the hospitality and hotel industry worldwide since 1983: We equip the food service industry, upscale hotels, exclusive bars and popular restaurants and cafés with parasols for the hospitality industry that harmonise with their corporate design.

Browse through all the photos showing examples of satisfied reference customers:
Parasols for the hospitality industry create ambience and atmosphere
The functionality and robustness of the restaurant and café parasols made by MAY by no means compromise the individuality and aesthetics, quite the opposite: Shape, size and appearance are yours to decide. The colour of the canopy can, for example, be chosen to match the furniture, or an individual print can make the parasol an eye-catcher out in front of the premises.
Individual prints for parasols for the hospitality industry: An eye-catcher and attractive advertisement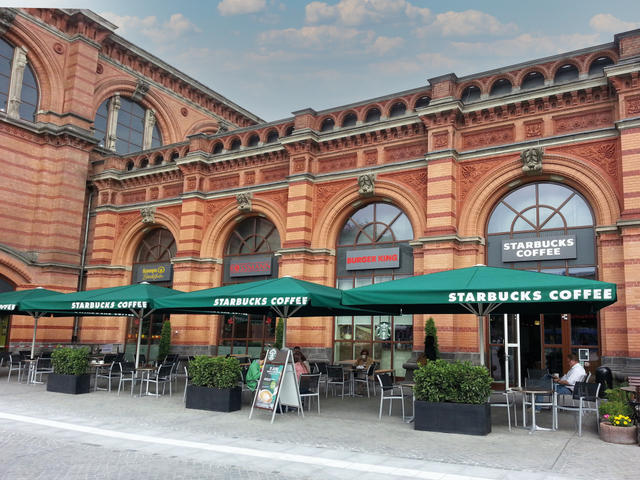 MAY SCHATTELLO with printing
Your MAY Parasol for the hospitality industry isn't off the rack: Use it for your advertising slogan. Have us
print your logo
on it and create another recognition factor for your guests. We will configure your individual parasol design exactly the way you want it.
For the highest expectations and discerning requirements: MAY Parasols for the hospitality industry
An extensive range of accessories, comprehensive technical expertise and a never-ending source of creative ideas mean that MAY Parasols and parasol systems will always be able to satisfy the highest of expectations. Even exceptional requirements – for example, for parasols with special noise insulating properties – are something MAY can fulfil for you individually.
Your parasol for the hospitality industry should, above all, be one thing: a key to success. The investment should bring you rewards for years to come – and you can rely on the very best quality, comprehensive sales advice and professional customer service. Please don't hesitate to contact us.
---
Suitable parasols
---
Do you have any questions or feedback?
Please use our contact form, write us an email, or just give us a call. We're looking forward to being able to help you!