Music for your guests
Make your guests' stay under your parasol even more pleasant - with the right background music! With the MAY parasol speaker system, this is child's play.

The sound system includes two stereo speakers with 8 watts peak power each (speaker impedance 8 ohms each), which are practically invisibly integrated into the power distribution box on the center pole of your parasol. The audio cables are routed through the inside of the parasol pole and into the anchor sleeve. This is not only elegant and inconspicuous, but also provides optimal protection against weather and theft. Of course, your parasol can be completely closed without disassembling the speakers.

With only one parasol, the hi-fi system requires a stereo output with 8 ohms impedance each. With multiple parasols, the circuit of the speakers must be adjusted individually. Relevant are the technical data of the HiFi system and the screen positions. The use of 100 V transformers is necessary.

The equipment with loudspeakers is recommended, for example, for smoking parasol in the outdoor area in front of your pub or your café, but also for parasols at trade fairs or events.
---
Product details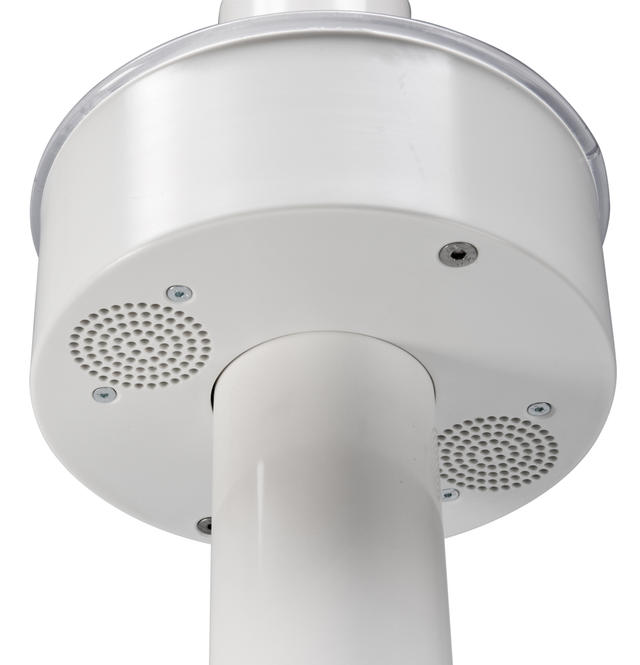 Speaker
Article-No. 202080
Offer pleasant background music to your guests. There are two outdoor loudspeakers neatly incorporated in the electrical harness and therefore weather protected and theft-proof.

The internal cable guide (through centre pole and anchor tube) protects the audio cable from weather effects and damaging. The parasol can be closed without demounting the loudspeakers. Each speaker provides 8 Watt peak performance and 8 Ohm impedance.

If more than one parasol is used, the speaker control must be adjusted individually or an ELA system is required (100 V technique). In case an ELA system is used, each parasol needs a 100 V transformer art. no. 353664.
---
100 V transformer (Audio)
Article-No. 353664
Required for the use of an ELA system. The parasols are supplied with a mono signal, therefore one 100V transformer is needed for each parasol, additionally to the two loudspeakers.
---
Suitable parasols
---
Do you have any questions?
Use our contact form, send us an e-mail or simply give us a call. We look forward to being able to help you.