LED lighting for your parasol
Turn your commercial parasol into more than just a parasol: This is easy to do with the matching lighting elements for our centre pole parasols SCHATTELLO and ALBATROS. Energy-efficient LEDs in warm white or in colour (RGB-W) on the spokes of the parasol provide a pleasant light in the evening and invite your guests to stay a bit longer.

The LEDs are dimmable and the colours can be controlled using the MAY Bluetooth dimmer and the apps for iOS/iPhone or for Android. A large parasol with integrated parasol lighting is, incidentally, the ideal solution for your smokers' corner outdoors.
Example of radiant heaters and lighting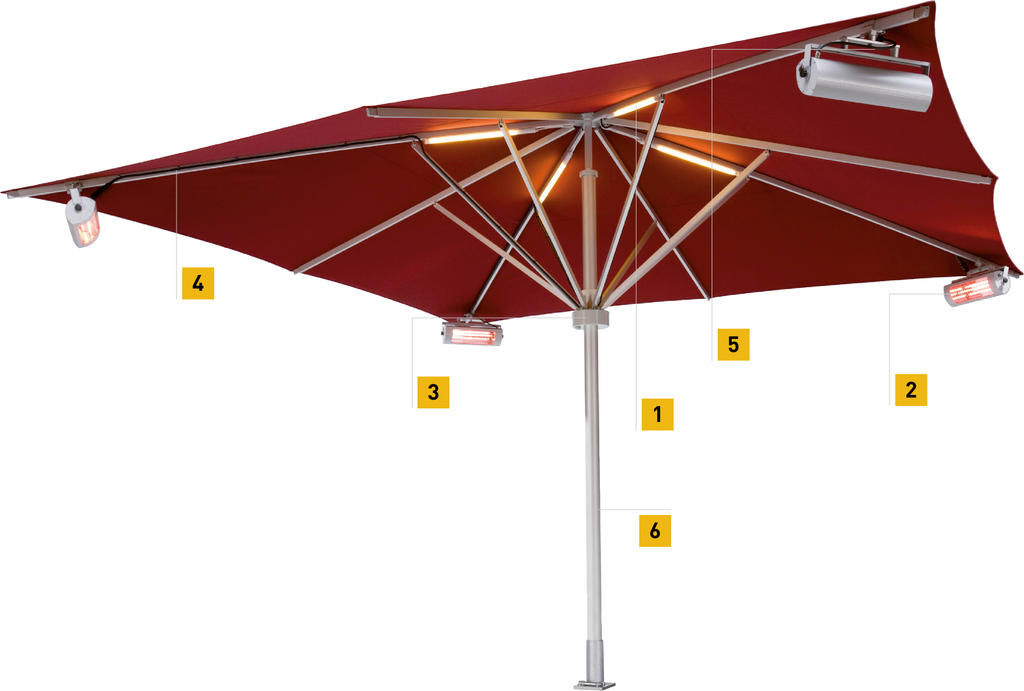 MAY infrared radiant heaters and LED lighting in the SCHATTELLO centre pole parasol
High-efficiency LED strip lights, 6 watts per strip, in warm white or in RGB-W.
2
Infrared radiant heaters
Infrared radiant heaters with an output of 1,400 watts each, IP24, can be switched on individually at the housing, with double parabolic reflector for maximum efficiency and a long service life, low glare IR tubes
The automatic protection switch prevents the radiant heaters from accidentally being switched on when the parasol is closed. Integrated loudspeakers can also be installed.
High-quality outdoor cabling with waterproof plug-in connectors, protection rating IP68.
Swivel brackets are used to secure the radiant heaters to the end of the spokes. This patented mechanism allows them to be rotated by 90°, and to be left in place when the parasol is closed. No time-consuming set-up and removal when closing and opening the parasol.
Conducted through the parasol pole to protect the cables from mechanical damage.
---
Product details
LED strip light, warm white
Article-No. 352187
3,000–3,500 K; 60 LEDs; 12 V DC / 0.5 A; current regulated LEDs; secured to a spoke; no light point, with diffusor
---
LED strip light RGB-W (in colour and warm white)
Article-No. 353925
LED strip light with RGB-W LEDs (red, green, blue, warm white 3,000–3,500 K); with 30 LEDs, 12 V DC / 0.4 A, colour can be set and dimmed using Bluetooth remote dimmer (item no. 352888); classic LED light point with diffusor.
Brilliant light and an inviting atmosphere
A matt luminous film integrated into the LED strip light provides uniformly scattered light, creating an inviting and pleasant atmosphere.
Easy operation
The change of colours and the speed at which the colours alternate can be regulated using the Bluetooth radio transmitter (item no. 352890) or using the free-of-charge free app.
Light spectrum
The RGB-W LEDs can light up in all different colour combinations.
---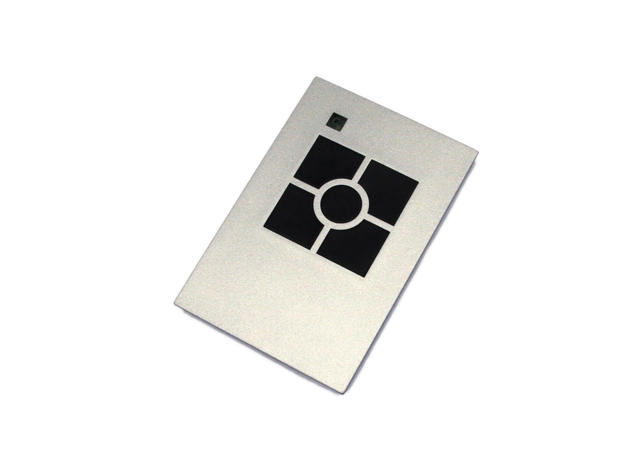 Bluetooth radio transmitter
Article-No. 352890
Controls 2 Bluetooth remote dimmers for RGB-W LED strip lights (colour and warm white) or 4 Bluetooth remote dimmers for warm white LED light strips.
---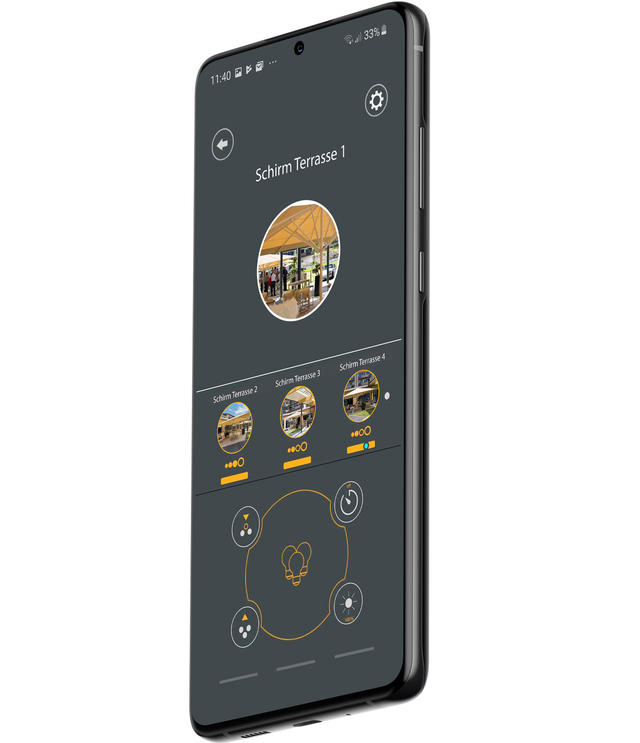 Bluetooth remote dimmer app
Article-No. 352890
The free-of-charge Bluetooth remote dimmer app can be found here:
Bluetooth remote dimmer app for Android & iOS (Apple).
Easy operation
Using the Bluetooth remote dimmer app, it couldn't be easier to create your own blend of light colours and to save individual light sequences and brightness values. The app also features a 'convenient switch-off function', which automatically switches off the light after 1 minute.
---
Suitable parasols
---
Do you have any questions or feedback?
Please use our contact form, write us an email, or just give us a call. We're looking forward to being able to help you!