For daycare & more: commercial parasols from MAY offer sun protection and ambience
Since 1983 MAY has been a reliable producer of commercial parasols for public institutions: Daycare centers, schools and universities trust in the highest quality of the commercial parasols developed and produced in Upper Swabia. MAY and its experienced dealers advise facility managers and other decision-makers individually. We know that safety, durability and good usability are the most important criteria for you. But MAY commercial parasols offer more than that: they create a special ambience and signal the high standards of your furnishings.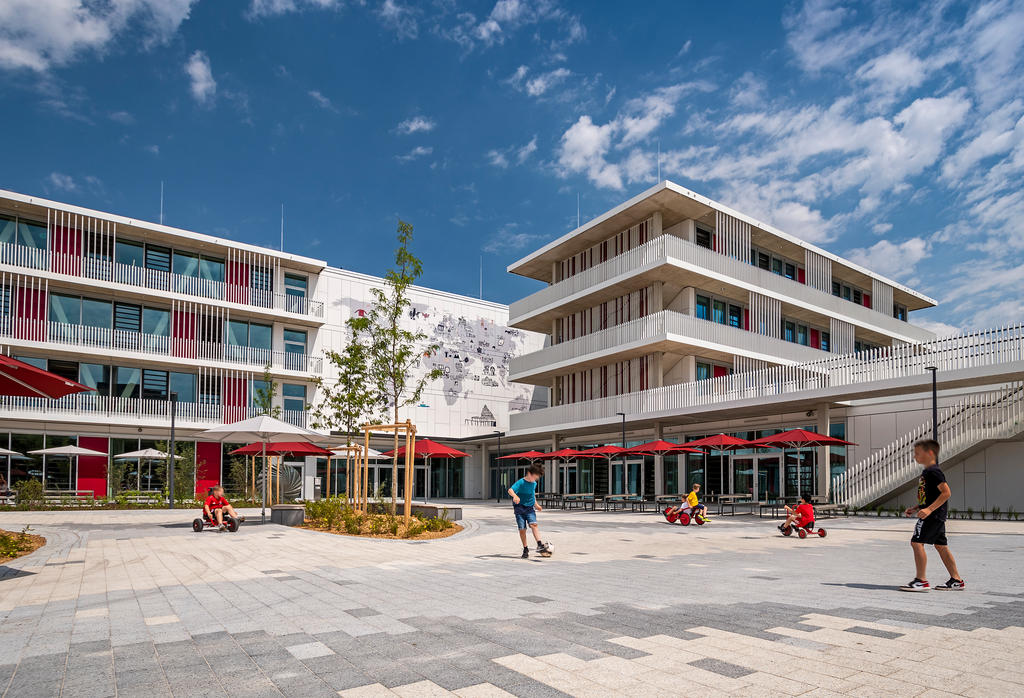 FILIUS Ø 3,0 m
MAY commercial parasols for the daycare center: Comfortable even outdoors
Highest protection against UV rays
Outside into the fresh air - but please always well protected! The life and vitamin-giving sun can also be very dangerous, especially for the sensitive skin of small children. commercial parasols from MAY are available in three different fabrics for every application - all fabrics are tested and approved according to the currently strictest sun protection standard (UV801) by independent laboratories.
Weatherproof and durable
Major investments always require sound arguments - especially when it comes to public facilities. MAY promises:


An investment for the future: MAY commercial parasols are really durable. They are very robust, very wind-stable and, what's more, they can be repaired if something does happen.
We use non-corroding, powder-coated aluminum from European production.
All parts are screwed or plugged in, so that they can usually be easily replaced on site in the event of a repair. MAY still supplies spare parts and replacement-coverings for parasols from the founding years in the mid-1980s!
Our fabrics get top marks for weather/lightfastness and know practically no fading. The canopy coverings can also be repaired: For example, individual parts can be separated out and replaced. This is done by MAY in the in-house sewing shop.
The covering can also be removed and sent to us for cleaning and reimpregnation. Or your team can clean it themselves on site with our proven CleanoMay.
The materials used for canopy coverings MayTex-Poly and MaxTex-PVC are waterproof - MAY commercial parasols create places to stay outdoors even in bad weather.
MAY commercial parasols for the daycare center: Comfortable even outdoors
Optimal use of space
Three parasol models from MAY are suitable for playground and garden: FILIUS, SCHATTELLO and ALBATROS. You can choose from different shapes - round, square, rectangular - and numerous sizes for each model. MAY parasol systems can be ideally adapted to individual needs and special conditions on site.

SCHATTELLO, for example, has been performing very well on hundreds of playgrounds and in kindergartens for many years. ALBATROS impresses with its enormous stability at comparable sizes.

Matched to your design ideas, we offer a extensive color palette.
Ease of use, less work
Many of our customers from the public sector, who combine several MAY commercial parasols, choose the equipment with motor drive. This guarantees fast operation for the daily, possibly multiple opening and closing of the parasols. A useful addition is the wind sensor, which automatically closes the parasols in the event of sudden wind. Alternatively, the parasols can also be integrated into the home automation.
Shading of playground equipment
MAY commercial parasols for use in daycare centers are basically designed with plenty of ground clearance. Thus, even higher playground equipment or other structures can be shaded without having to move them aside to close the parasol. For details, please refer to our catalog or ask us directly.

Commercial parasols from MAY are so weather-resistant and durable that they can remain outside all year round. This relieves the burden on the building yard, for example, as the annual collection, storage and erection of the parasols is no longer necessary.
Stability and security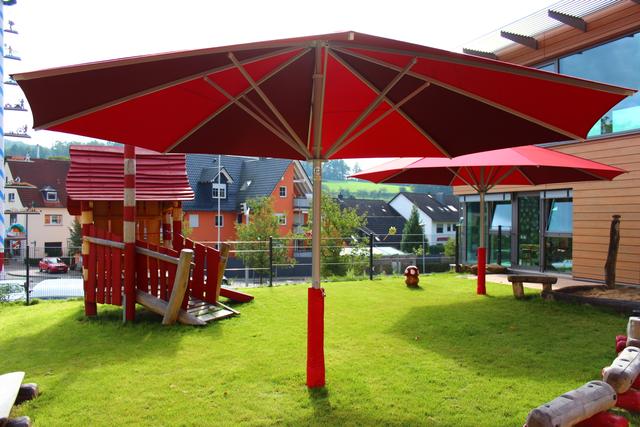 MAY SCHATTELLO with impact protection
MAY promises optimal solutions for every installation situation. Numerous fastening options - from mobile fastening elements to stationary installations to special fastenings for installation directly in the sandbox - guarantee stability, safety and conformity to standards for public areas.
Read more about the wind safety of MAY commercial parasols here
.
MAY knows the special requirements for parasols that are used in the garden of a daycare center:
The impact protection
available for all our parasol models provides additional safety when playing and romping.
The specialist dealer in your area will advise you comprehensively. We will be happy to put you in touch with them.
---
Suitable parasols
---
Do you have any questions?
Use our contact form, send us an e-mail or simply give us a call. We look forward to being able to help you.