For child care and other centres: Large parasols made by MAY provide sun protection and create atmosphere
MAY has been a dependable producer of large parasols for public facilities since 1983: Child care centres, schools, colleges and universities have placed their trust in the unbeatable quality of the large parasols developed and produced in Upper Swabia. MAY and its experienced specialist retailers provide individual advice to facility management and other decision-makers. We know that safety, durability and ease of operation are the key criteria for you. MAY large parasols, however, have a whole lot more to offer: They create a special atmosphere and are a visible sign of the level of excellence your facility aims for.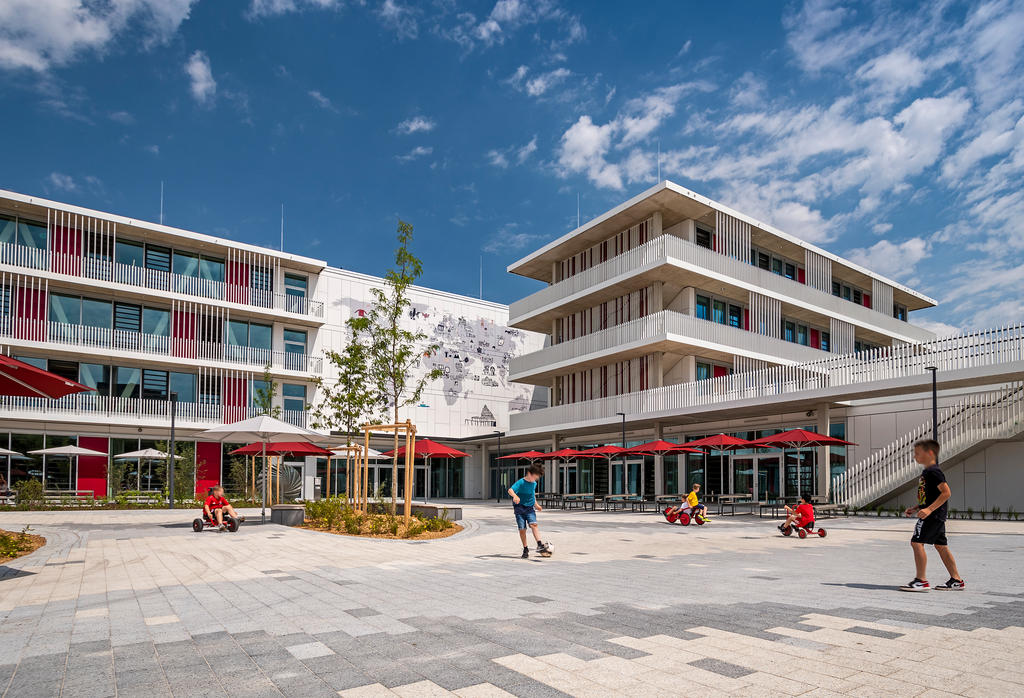 FILIUS Ø 9' 10"
MAY large parasols for child care: Well cared for outdoors as well
Highest level of protection from UV rays
When heading outdoors to get some fresh air, make sure you stay properly protected! The sun is necessary for life, and even provides certain vitamins – but the sun can be dangerous too, especially for the sensitive skin of young children. Large parasols made by MAY are available in three different fabrics for all different uses – and all fabrics have been tested and approved for use in accordance with the current, very strict UV protection standard (UV801) by independent laboratories.
Resistant to the weather and hardwearing
Well-founded arguments are needed before making major investments – especially when it comes to public facilities. MAY can provide assurance:


An investment for the future: MAY large parasols really are hardwearing. They are extremely robust, exhibit high wind-stable and can also be repaired should something end up happening.
We use non-corroding, powder coated aluminium manufactured in Europe.
All components are bolted or plugged in place, which usually allows them to be easily replaced there and then should a repair be necessary. MAY still delivers spare parts and replacement canopies for the parasols made during the company's early days in the mid-1980s, even today!
Our fabrics meet the highest standards when it comes to weathering and lightfastness, and will hardly fade at all. The parasol canopies can be repaired too: Individual components can, for example, be cut out and replaced. MAY takes care of this in its own sewing workshop.
The canopy can also be removed and sent to us for cleaning and a fresh impregnation. Alternatively, your team can do the cleaning itself right on site using the popular CleanoMay cleaning agent.
MayTex Poly and MayTex PVC, the materials used for the parasol canopies, are waterproof – meaning that MAY large parasols provide a place to remain outdoors even when the weather's poor.
MAY large parasols for child care: Well cared for outdoors as well
Optimal use of space
There are three parasol models made by MAY that are suitable for playgrounds and gardens: FILIUS, SCHATTELLO and ALBATROS. Each model provides you with a choice of different shapes – round, square, rectangular – and many different sizes. MAY Parasol systems can be ideally adapted to specific requirements and the specific circumstances at the place of use.

SCHATTELLO, for one, has been providing its invaluable services on hundreds of playgrounds and child care centres for many years. ALBATROS makes an impression with its outstanding stability when compared to parasols of a similar size.

To cater to your design ideas, we offer an extensive color palette.
Easy to operate, less work
Many of our customers from the public sector who have combined several large parasols from MAY choose the equipment option with motor drive. This is a guarantee of quick operation when opening and closing the parasols, especially when doing so several times a day. A practical supplement is the wind sensor that automatically closes the parasols when the wind suddenly picks up. Alternatively, the parasols can also be integrated into the home automation system.
Shading for playground equipment
MAY large parasols for use in child care and similar centres are, by principle, designed with plenty of ground clearance. This means that shade will also be cast on taller playground equipment or other structures without needing them to be pushed aside to close the parasol. Details can be found in our catalogue or by asking us directly.

Large parasols made by MAY are highly weather resistant and so hardwearing that they can remain outdoors all year long. This means that there will be less work for the maintenance department, for example, to do, because it won't need to collect, stow away, and set up the parasols again every year.
Stability and safety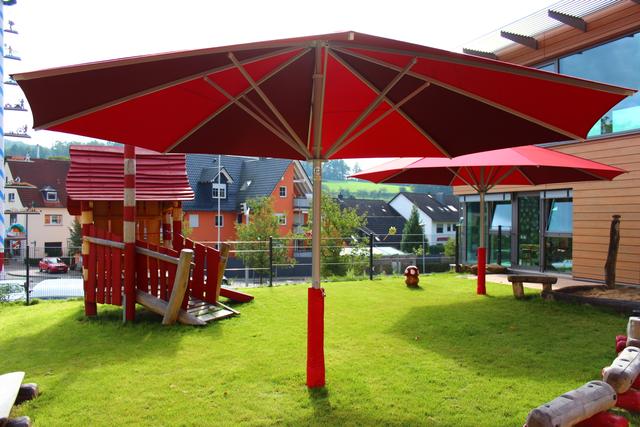 MAY SCHATTELLO with impact protection
MAY can provide optimal solutions for every installation situation. A large number of options for securing parasols – from moving elements for securing them to fixed installations, and even special bases for installation directly in a sandpit – guarantee stability, safety and compliance with standards in public areas.
Read more about how safe MAY large parasols are in the wind here
.
MAY knows all about the special requirements of parasols that are used in the garden of a child care centre: The
impact protection
available for all our parasol models provides additional safety when playing and running around.
A specialist retailer near you can provide comprehensive advice and information. We are happy to help you get in touch with one.
---
Suitable parasols
---
Do you have any questions or feedback?
Please use our contact form, write us an email, or just give us a call. We're looking forward to being able to help you!