MayTex - Colours and Textiles
The textile finishing of a parasol canopy – i.e. the fabrics – is notonly the most important and most conspicuous feature of any sun protection system, it also fulfils numerous functions:
Colour, light and shade: personal well-being, atmosphere and decoration
The comprehensive range of upmarket classics and specialities. The fabric keeps out the light. It protects, shades, creates atmosphere and serves as an element of design and decoration. The fabric evokes a sense of harmony and creates a feeling of well-being by filtering and tinting the light and thus lending a room and its environment a very special soothing atmosphere. The impact a fabric has on a person is decisively determined by its colour, pattern and degree of translucence.
With each of our parasols you can choose from up to 70 different colours and textiles. Each textile has its own characteristics and advantages.
MayTex-Poly
MayTex-Acryl
MayTex-PVC
MayTex-D01
Grammage
230 g/m²
300 g/m²
480 g/m²
Print-dependent
UV-Protection (UV801)
80
40 - 80
80
50 - 80
Waterproof fabrics
1.000 mm
Watertight
370 mm
Water repellent
> 1.000 mm
Watertight
> 1.000 mm
Watertight
Colour selection
16
40
14
1 (white)
Cleaning
Yes
Yes
Yes
Yes
Special features
Reasonable price
Durable when
opening/closing
the parasol
flame-resistant (B1)
(without printing),
mechanical, robust
For digital printing only
Costs
€
€€
€€€
Print-dependent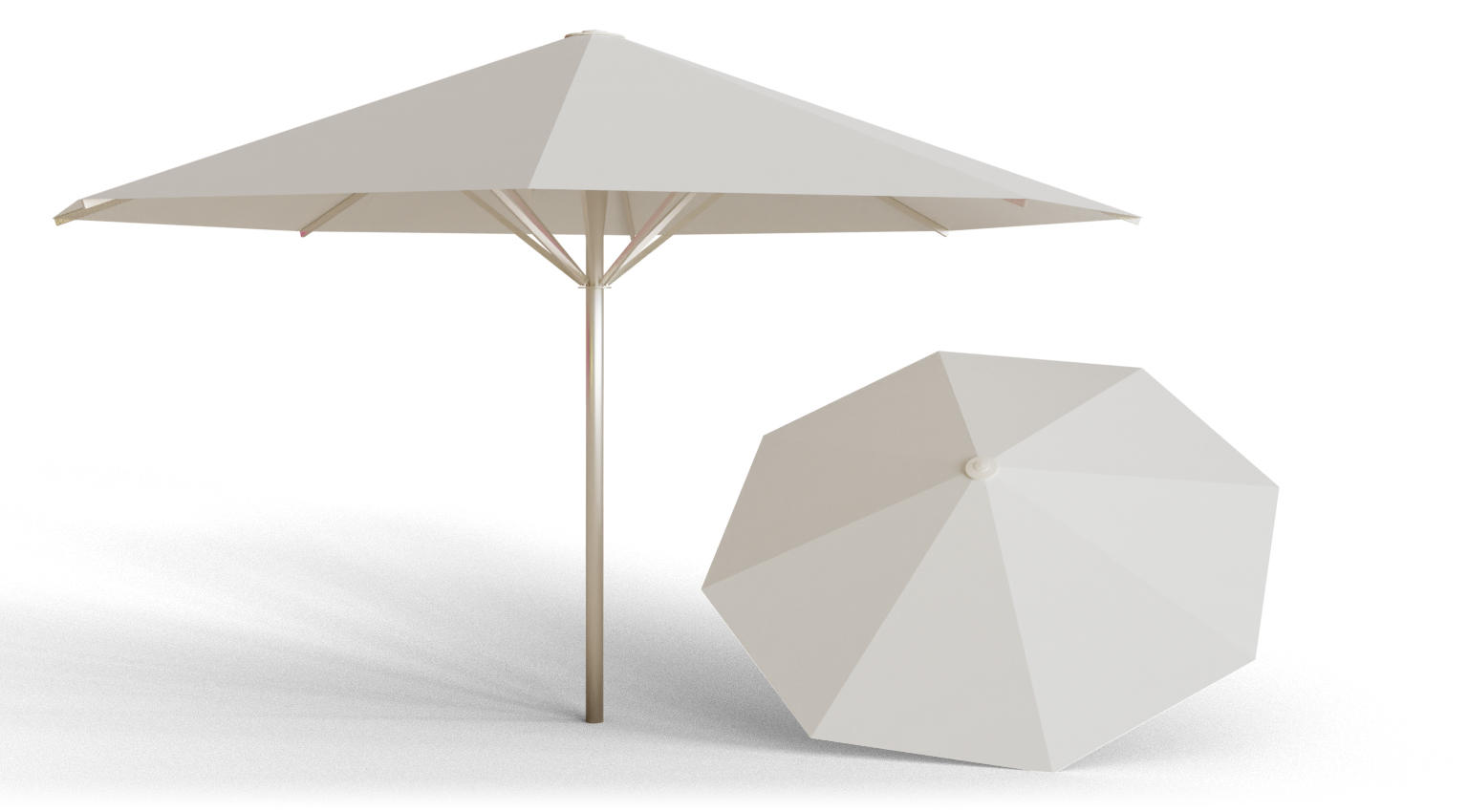 Fabric collection
Your advantages / benefits
material: 100% polyacrylic, spun-dyed, weight 300g/m² ±5%
water column (fabric water tightness) 370 mm, European standard EN 20 811
colour fastness: grade ≥7 (against bleaching), tested acc. to standard EN ISO 105-BO2 (1= min., 8= max.)
colour fastness to artificial weathering: grade ≥4-5 (against bleaching), tested acc. to standard EN ISO 105-BO4 (1= min., 5= max.)
protection against UV rays: UPF 40-80, tested acc. to UV standard 801
weather-proof, high and low temperature resistant
Texgard impregnation gives effective protection against oil, grease, mildew and algae, industrial pollution, exhaust fumes and other negative environmental factors
tested acc. to OEKO-TEX Standard 100 (63864 OETI, QC 638/2 IFTH)
imprinted ads: on parasol canopy and valance in durable, brilliant screen-printing quality
cleaning: easy to clean with CleanoMay 13, even when mounted
Each fabric and colour can have a different UV protection. Read the article
Do parasols offer sufficient UV protection??
for more information.
Edging strips
The canopy cover is edged with a high-quality polyacrylic awning edging strip. If the colour is not specified, it will be matched to the fabric colour. Visual accents can be set by choosing contrasting colours for the fabric and the edging strip.

FILIUS ø 3 m, MayTex acrylic SA 314 014 mandarin, edging strip in 18 silver
The colours shown on these pages are not true to the original. If required, please request a fabric collection with original fabric samples. Special colours are available on request.
---
Product properties of fabrics
Parasol cloths are high-performance products. However, given the requirements that have to be met in the field of environmental protection, there is a limit to the degree of perfection that can be achieved in spite of present-day state-of-the-art production and processing. As a result, customers may occasionally lodge complaints regarding certain features that can appear on the cloth. Such features neither alter the value of the product, nor do they impair its usability in any way. As we feel committed to providing full consumer information and thus hope to avoid irritation or dissatisfaction, we should like to draw your attention to the following features:
Crease marks
Crease marks may appear during the production process or when folding the parasol fabric. When held against the light, cloths – particularly those of a light colour – may appear to have a dark streak in the crease.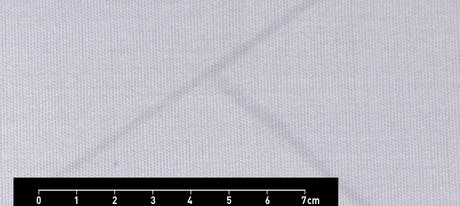 ---
Chalk effect
Light chalk-like stripes may arise during the processing of materials. Although the greatest of care is taken, they cannot always be totally avoided.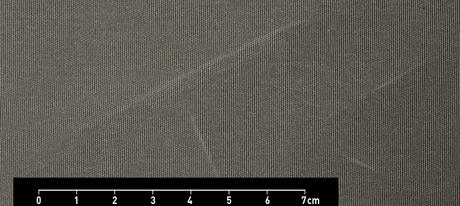 ---
Water/rain resistance
Acrylic canopy covering are impregnated with a water-repelling finish and can withstand short periods of light rainfall if treated with proper care. During lengthy periods of rainfall or heavy downpours, how-ever, the parasol should remain closed in order to prevent any material damage. If the cloth becomes wet, the canopy covering should be opened again as soon as possible to allow it to dry.
---
Abrasion marks
In the course of time abrasion may weaken the canopy fabric and thus impair its quality. This can be avoided by pulling the cloth between the spokes when closing the parasol and then securing it with a yellow strap to prevent flapping.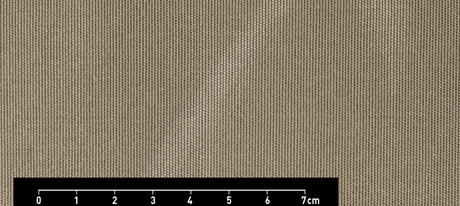 ---
Cleaning instructions
Stains can be cleaned off with a soft brush and CleanoMay 13. Rinse well afterwards with clean water to remove all detergents from the fabric. A high-pressure hose may be used for large-area surfaces (max. 30º C, max. 30 bar, min. distance from canopy covering 30 cm, cleaner: CleanoMay 13, 1 litre concentrate yields 26 litres liquid cleanser.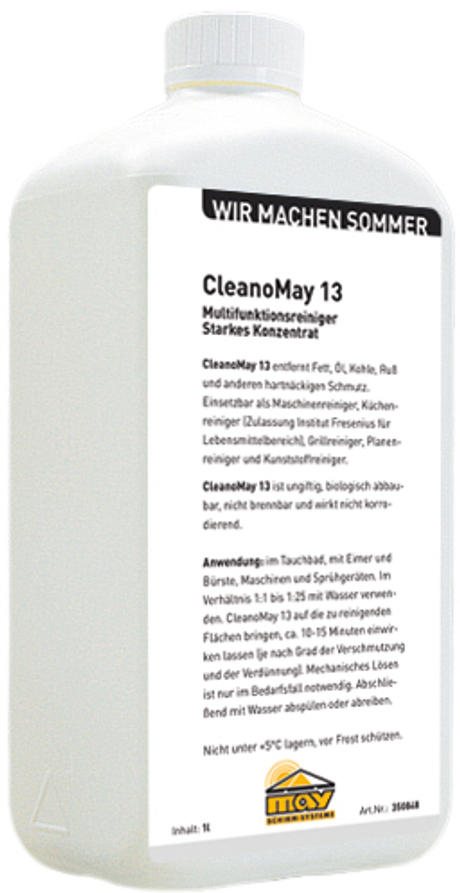 ---
Characteristic features of our sewing yarn
high tensile strength
optimum abrasion resistance
well-balanced elongation property
high thermal resilience
good light and weather fastness
---
Alternating segment colours
Alternating segment colours are available as illustrated.
1/8-division
1/8-division
1/4-division
1/4-division