Create appealing cafeteria and break areas with MAY commercial parasols
Some topics are always important for successful entrepreneurs: employee retention, increasing motivation and productivity. Numerous studies* prove it, diverse "New Work" concepts play with it: A decisive aspect in increasing employee motivation and retention lies in promoting the well-being of employees at the workplace.

This includes supplementing the workplace landscape with break areas and recreation zones that serve both regeneration and informal exchange among employees. If you have the option, it's best to offer such opportunities in the fresh air. Equipped with commercial parasols from MAY, these outdoor areas - for example as an extension of your cafeteria or canteen - become places with a high quality of stay. An optimal environment for new input and fresh energy - for motivation and productivity.


* "State of the Global Workplace" (2017) Gallup, Inc. (PDF)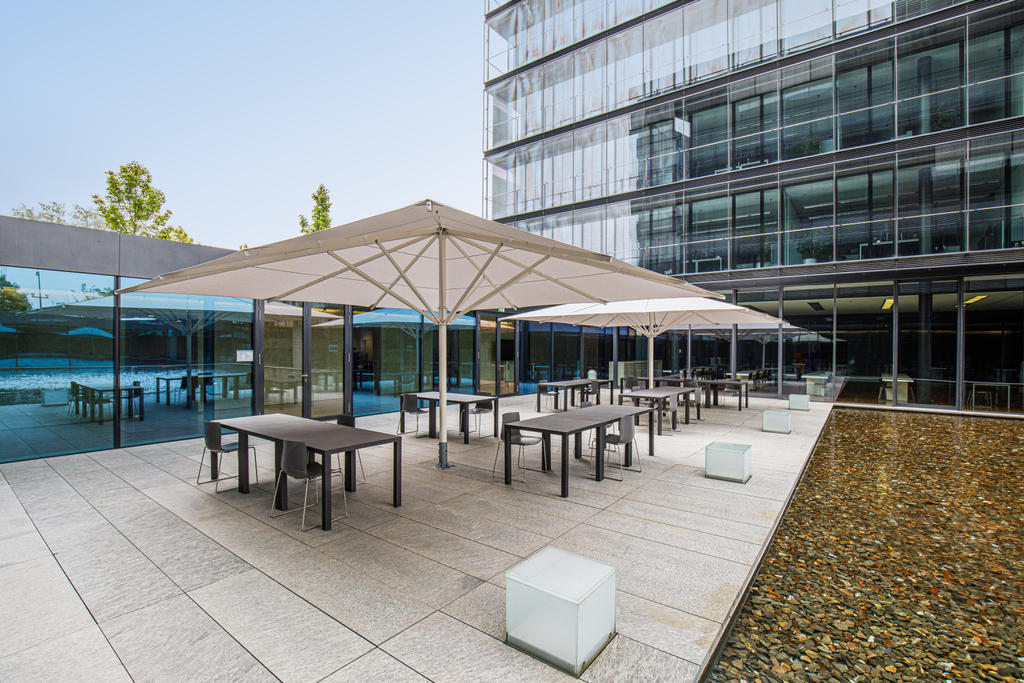 ALBATROS 6,0 x 6,0 m
Productive feel-good atmosphere for your business building with commercial parasols from MAY
As a medium-sized family business with in-house production in Betzenweiler, Upper Swabia, we know how important it is that employees as well as customers, guests and business partners feel completely comfortable with us. As the largest umbrella manufacturer in Europe with hundreds of satisfied customers worldwide, we know at the same time how to enhance your company premises with high-quality, durable and technically top-equipped commercial parasols for a pleasant and productive working atmosphere. No less important is the signal effect that high-quality parasols from MAY have on the outside: designed in your corporate colors and printed with your company logo, the parasols become carriers of your corporate identity.
Breaks can be this productive - your investment in commercial parasols from MAY is this sustainable.
With parasols from MAY you invest in long-lasting quality, sophisticated design and high functionality - according to your individual needs and ideas.
Parasols "Made in Germany": versatile and durable
Hochwertige All-Wetter-Schirme
Quick and easy operation, useful technology
Buy sustainably, experience service
---
Suitable parasols
---
Do you have any questions?
Use our contact form, send us an e-mail or simply give us a call. We look forward to being able to help you.