Create attractive cafeterias and enticing break areas with MAY large parasols
There's a number of action areas that consistently challenge successful companies: Employee retention, increasing motivation, and boosting productivity. Any number of studies* provide the evidence, and different 'new work' concepts address it: A decisive aspect when it comes to increasing employee motivation and employee retention is found in promoting employees' sense of well-being at the workplace.

This also includes adding break areas and quiet zones to the workplace environment, which can be used by employees to both relax and recharge, and to talk to each other about work informally. Those who have the option of doing so would be best to provide these facilities in the fresh air as well. Equipped with large parasols from MAY, these outdoor areas – which may, for example, be an extension of your cafeteria or canteen – will become popular spots with a welcoming atmosphere. The ideal place for new input and fresh energy – for motivation and productivity.


* For example "State of the Global Workplace" (2017) Gallup, Inc. (PDF)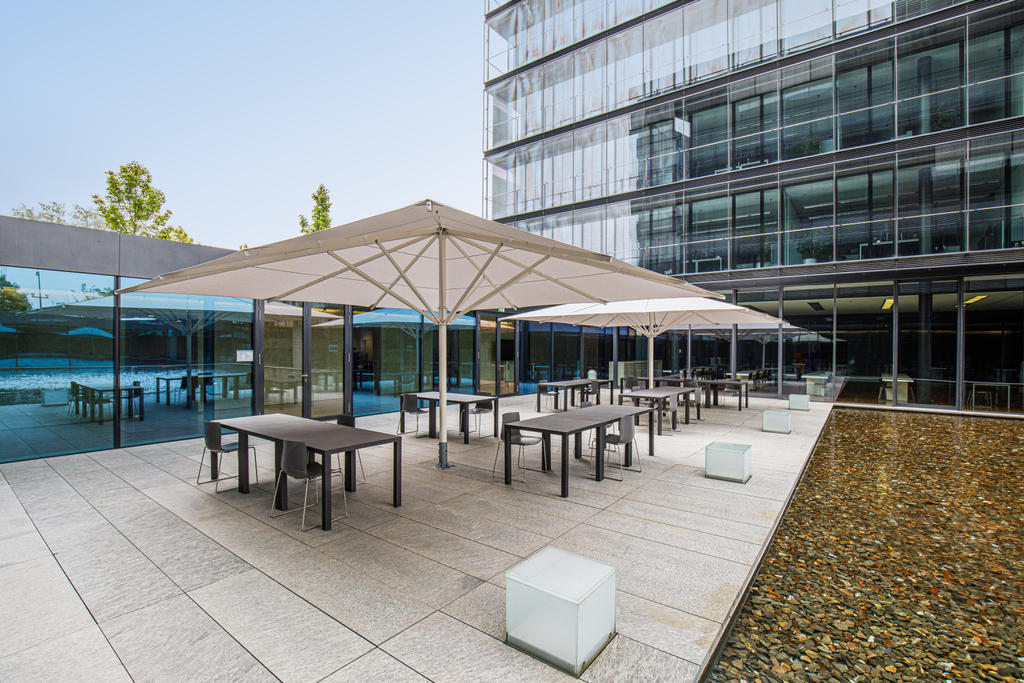 ALBATROS 19' 8" x 19' 8"
Productive and inviting atmosphere for your business premises with large parasols from MAY
As a medium-sized family company with an in-house production facility in the Upper Swabian town of Betzenweiler, we know how important it is that both employees and customers, and visitors and business partners, have a sense of feeling at ease. As the largest parasol manufacturer in Europe with hundreds of highly satisfied customers all over the world, we also know how you can use high-quality and hardwearing large parasols featuring top technology to upgrade your company premises and create a pleasant and productive working atmosphere. No less important is the signal that the high-quality parasols made by MAY send out: Fashioned in your corporate colours and printed with your company logo, the parasols will be a standard-bearer of your corporate identity.
Just like a break from work can be productive – an investment in large parasols from MAY is a long-term one
When you purchase a parasol from MAY, you're investing in quality that will last for years, in discerning design and in a high level of functionality – all of which cater to your individual requirements and ideas.
Parasols 'made in Germany' Versatile and hardwearing
High-quality all-weather parasols
Fast and straightforward operation, practical technology
Purchase sustainability, experience real service
---
Suitable parasols
---
Do you have any questions or feedback?
Please use our contact form, write us an email, or just give us a call. We're looking forward to being able to help you!