Parasols made in Germany: MAY residential parasols
Imagine coming home after a long day at work, kicking off your shoes and all your worries, crossing your house or apartment and opening the balcony or terrace door into the open air - the door to freedom. Here you will find your oasis of relaxation, a place of inner peace.

An outdoor area designed according to your ideas, with tasteful furnishings and a high-quality sunshade, extends your living space outdoors. A large, visually appealing parasol spans your favorite place protectively - it offers protection from sunlight and heat, of course, at the same time it creates a sense of security, shields you from the hectic everyday life in the truest sense of the word, and flatters your eye. A residential parasol from MAY for terrace, garden and balcony is your "inside" in the "outside".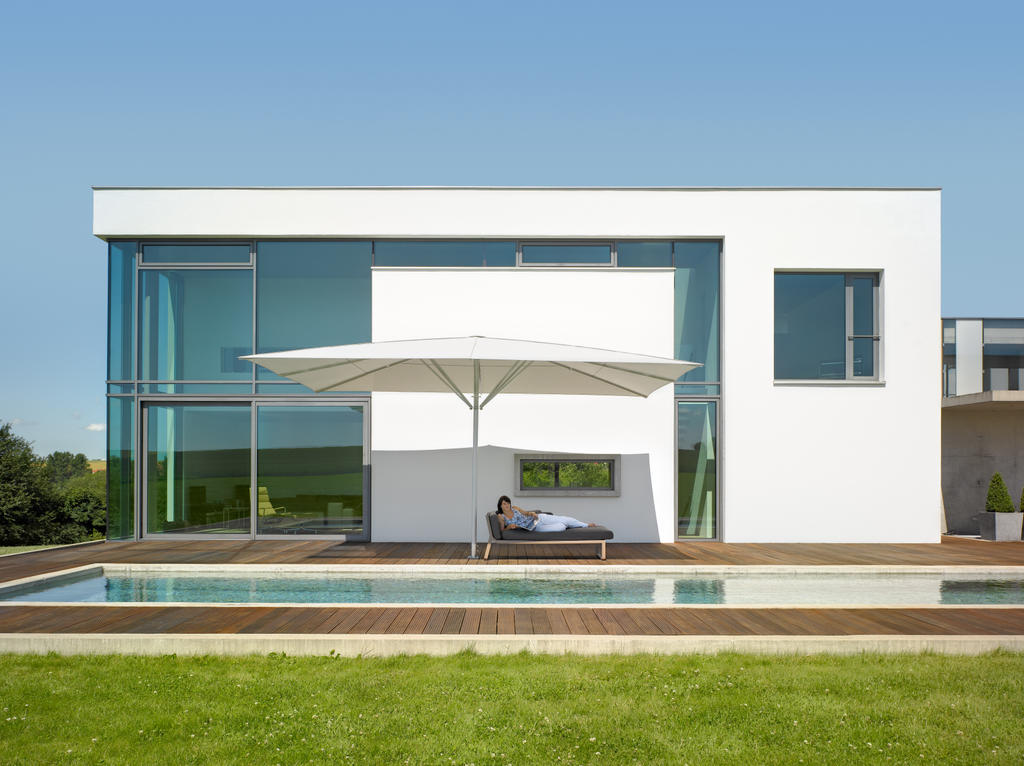 SCHATTELLO 3,0 x 5,0 m
Your outdoor room: Design-parasol for terrace, garden and balcony
The extensive range of MAY parasols and the professional, individual advice from our dealers offers happiness guarantee: with us you are sure to find the right parasol for you.
Schirmtypen bei MAY: Ampelschirm oder Mittelmastschirm in verschiedenen Formen und Größen

Side pole parasol MEZZO and center pole parasol SCHATTELLO
Integrated, flexible and space-saving: The MAY side pole parasol or "cantilever parasol" often stands next to a table or sun lounger and can be swiveled. In this way, you align it individually according to the sun. Due to their construction, side pole parasols are flexible and space-saving. They usually have sizes up to 3.5 x 3.5 m. Our models
MEZZO
,
DACAPO
and
RIALTO
belong to the side pole parasols.
Central, very stable and very large depending on your needs: the center pole parasol from MAY has the mast in the center of the parasol. Their design makes them more stable and safer in stronger winds. They are available in rectangular and round shape. There is a wide range of sizes: rectangular parasols are up to 7 x 8 m in size; round parasols are available up to 10 m in diameter. The models
FILIUS
,
SCHATTELLO
and
ALBATROS
belong to the center pole parasol category.
Stability is everything: The right parasol bases
The optimal attachment of a parasol is related to the location and substrate. There are discreet stationary solutions, but also mobile attachments in various designs. In the menu item accessories we show you under the keyword parasol bases all possibilities. If you have any questions, we are always there for you.
Beautiful shade: The perfect parasol cover
This is where high standards of aesthetics and individuality meet quality and protective functions. MayTex, our weather-resistant and durable materials in up to 40 different colors are tested and rated according to the strictest sun protection factor test method "UV Standard 801". Your parasol from MAY fully protect you from the sun's rays and you can enjoy the nice weather in its shade without any worries - no matter which material and color you finally choose. We will be happy to advise you!
That little extra: Smart technical accessories
Your MAY parasol fulfills the most important functions through its high UV protection, its sophisticated design and its high-quality workmanship. MAY also offers you a wide range of practical to playful extras, with which you can make your parasol even more individual, even more operational, even more special: The electrical professionals at MAY will integrate infrared heaters, LED lighting on your parasol upon request, speakers or even a motor drive with wind sensor that we connect to your smart home system.
MAY parasols: Why you can trust us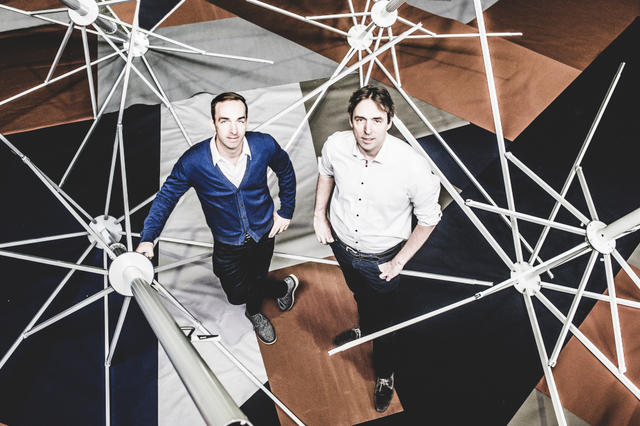 Karl-Heinz May & Klaus-Peter May
The entire production of MAY parasols - including sewing, metalworking, assembly, shipping and service - takes place in Betzenweiler, Upper Swabia, where the company was founded over 30 years ago. Meanwhile, the family business is managed in the second generation by the brothers Karl-Heinz May and Klaus-Peter May.

MAY has been a reliable partner of gastronomy, architects and private customers for decades. The longevity of our products is very important to us: we provide you with spare parts even years after purchase; our coverings are easy to clean, impregnate and repair. Our parasol systems boast great wind stability and weather resistance. Investing in a MAY parasol is worthwhile: after comprehensive consultation and individual configuration, it will meet all your requirements - for years to come.
---
Suitable parasols
---
Do you have any questions?
Use our contact form, send us an e-mail or simply give us a call. We look forward to being able to help you.