Compact large parasols made by MAY for bakeries with a café or takeaway food
More and more bakeries are opening branches with a more extensive range of food and beverages: By creating a pleasant and relaxing atmosphere, they are encouraging customers to stay and enjoy a coffee and a piece of cake right there, or eat a warm snack during their lunch break.

Many bakeries offer a number of seats indoors; all those able to, however, set up a patio in front of the premises. This helps attract attention to the more extensive range of food and beverages, and lets people know they're welcome to eat in. However, because there isn't unlimited space for this, the furnishings should be versatile. And this is where MAY enters the equation.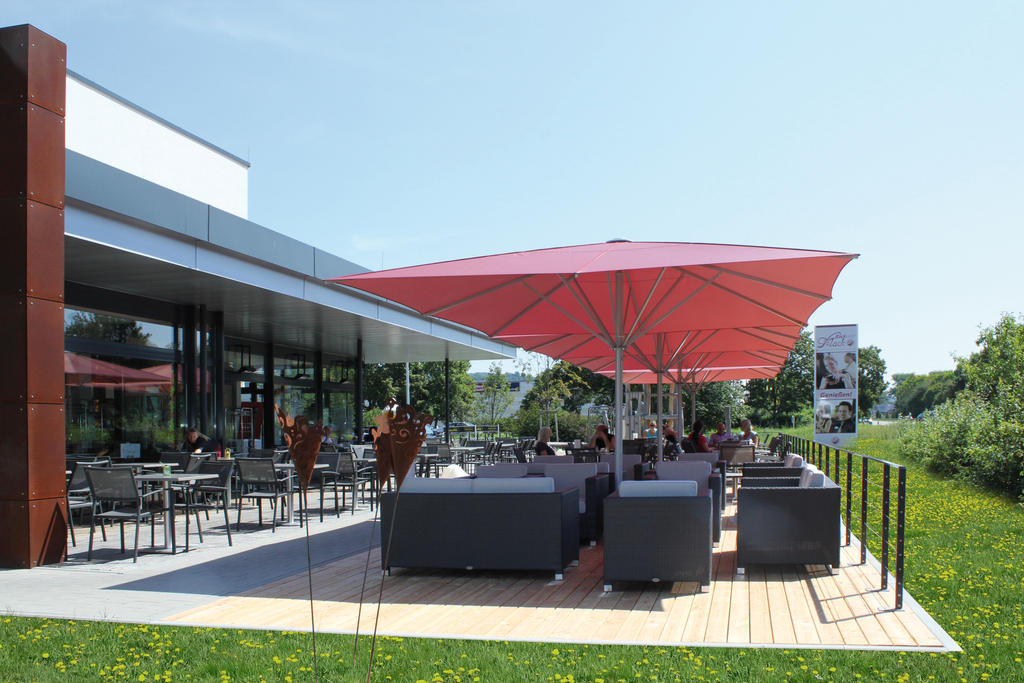 SCHATTELLO 16' 5" x 16' 5"
A pleasant and inviting atmosphere at your favourite bakery
All the benefits that MAY large parasols have for the hospitality industry are available to read here. There's one parasol model and an intelligent equipment accessory in particular that are of special interest for bakeries.
Just like a break from work can be productive – an investment in large parasols from MAY is a long-term one
When you purchase a parasol from MAY, you're investing in quality that will last for years, in discerning design and in a high level of functionality – all of which cater to your individual requirements and ideas.
Centre pole parasol FILIUS: Compact but effective!
Its compact dimensions in three different shapes and 10 different sizes make the FILIUS a real asset for smaller outdoor areas – and perfect for providing shade for a few inviting groups of chairs and tables out front of your bakery and coffee shop. Weighing less than 20 kg, FILIUS won't be any trouble to set up and take down every day. This job is even more convenient to do when the matching parasol bases are used. One alternative is special parasol bases for concreting in – the fire brigade won't have any objections to their approval, because the parasol can be removed quickly and without any tools. An important argument for outdoor cafés and eateries in bustling inner-city areas.
Clever addition: An integrated high table for the centre pole parasol SCHATTELLO
If the range of food and beverages at your bakery aims to provide ready-to-eat snacks or a quick coffee, then the MAY high tables for the parasol model SCHATTELLO parasol bring twice the benefits: They can be integrated on the parasol pole to save space – providing a space for groups to socialise while taking up little room.
MAY Parasols in your corporate colour and printed with your logo
Choose the colour for your parasols which best suits your company from our extensive range of colours. For a special recognition factor and a uniform appearance – which is important if you are operating several shops – we print your logo on your parasols using a high-quality printing process. We provide you with comprehensive advice on your parasol design.
---
Suitable parasols
---
Do you have any questions or feedback?
Please use our contact form, write us an email, or just give us a call. We're looking forward to being able to help you!