Compact commercial parasols from MAY for bakeries with café or snack bar
More and more bakeries are focusing on an extended range of products in their branch concept: by creating the most comfortable ambience possible, customers are invited to enjoy a coffee and a piece of cake on the spot, or a warm snack during their lunch break.

Many bakeries offer some indoor seating; however, those who can also design a patio area in front of the store. Thus, the bakery is immediately perceived with its expanded range of products and invites even from the outside to linger. Because the space for this is not unlimited, the furniture must be versatile. And this is where MAY comes into play.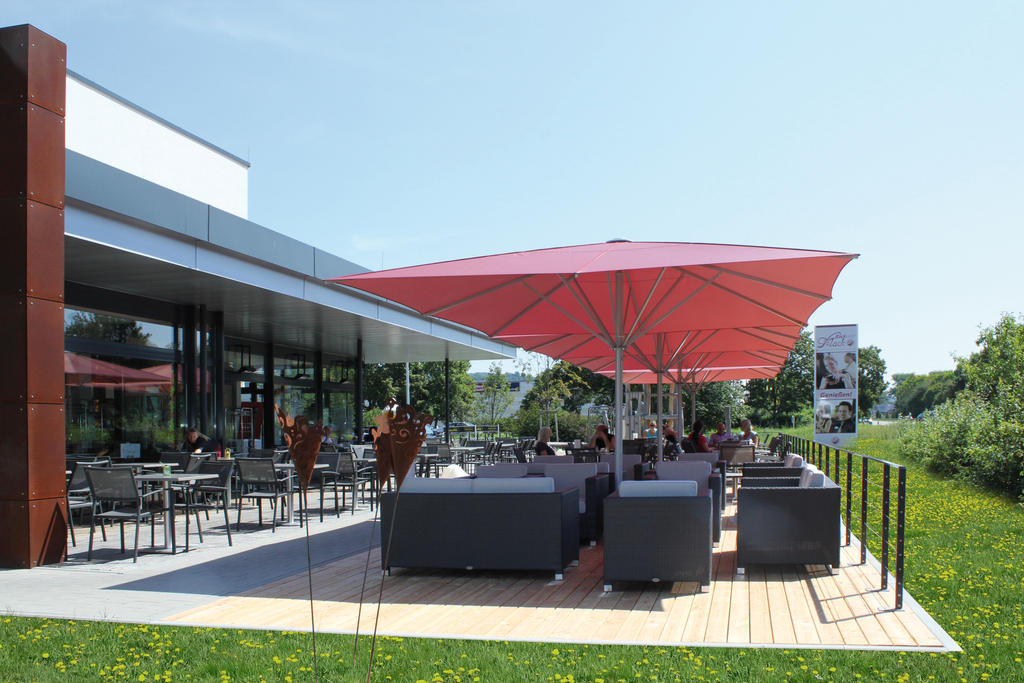 SCHATTELLO 5,0 x 5,0 m
Cozy feel-good ambience in the favorite bakery
What are the advantages of MAY commercial parasols for catering establishments, read here. For bakeries in particular, a parasol model and smart accessories are worth highlighting.
Breaks can be this productive - your investment in commercial parasols from MAY is this sustainable.
With parasols from MAY you invest in long-lasting quality, sophisticated design and high functionality - according to your individual needs and ideas.
FILIUS center pole parasol: Small but mighty!
Its compact dimensions in three different shapes and 10 different sizes make FILIUS a real asset for smaller outdoor areas - so it's perfect for shading a few cozy seats in front of your bakery outlet. Weighing less than 20 kg, FILIUS won't become a burden during daily set-up and take-down. It becomes even more comfortable with the matching mobile parasol stands. An alternative are special parasol stands that are set in concrete - they are accepted by the fire department without problems, because the parasols can be removed without special tools and quickly. An important argument for outdoor catering in busy city centers.
Clever addition: Integrated high table for center pole parasol SCHATTELLO
If you orient the gastronomic offer of your bakery rather to a quick snack or spontaneous coffee, the MAY mountable high table for the parasol model SCHATTELLO bring you double benefit: They can be integrated on the parasol pole to save space - and offer sociable options for small groups in the smallest of spaces.
MAY parasols in your corporate color and printed with your logo
Choose from our extensive color palette the color for your parasols that matches your company. For the special recognition value and a uniform appearance - important, for example, if you operate several branches - we print your parasols with your logo in a high-quality printing process. We will advise you comprehensively on your parasol design!
---
Suitable parasols
---
Do you have any questions?
Use our contact form, send us an e-mail or simply give us a call. We look forward to being able to help you.