A high table to integrate into the pole of your MAY Parasol
Give your guests a high table for drinks or an ashtray. A sociable solution for small groups of people standing outdoors. Integrated into the parasol pole, you won't need a stand for the table – and will have an easy way to extend the service area. When installed on the pole at a height of around 27.6", the table is the perfect complement to your open-air area when seating is added. A maximum area can be exploited in a small space.
Benefits
Additional room to stand directly under the parasol
Can be installed at any height
Can be retrofitted
Easy to remove in the evening without tools
Hardwearing due to an extremely robust material suitable for outdoors (HPL)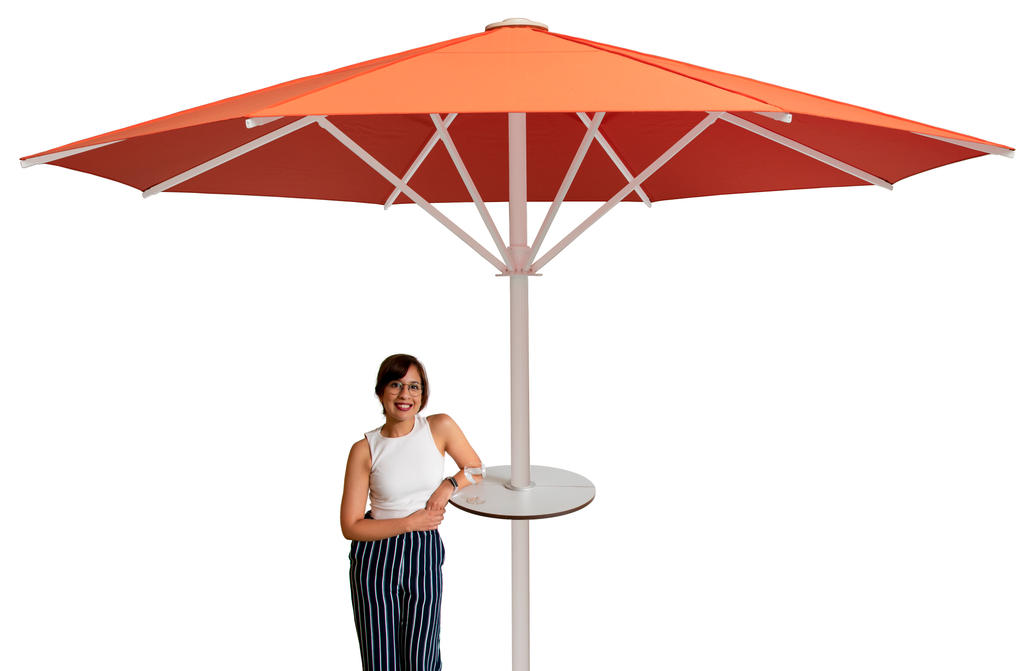 MAY high table installed on a SCHATTELLO 13' 1" round
---

Aluminium half shells
Mounting
Two halves of a non-rusting aluminium joint are bolted to the pole, and remain on the parasol. The two halves of the tabletop are simply pushed on and screwed in place. The tabletop can be fitted and removed every day, if you prefer. This allows parasols with very long spokes to be closed every day so that the protective cover included as standard can be pulled over them. The high table is suitable for retrofitting to a parasol you already have.

357453 Mountable high table, mounting instructions and manual
---
---
Choice of colours
White finish; suitable for frame colour RAL 9010.
Grey finish; suitable for frame colour RAL 9006 and 7016.
---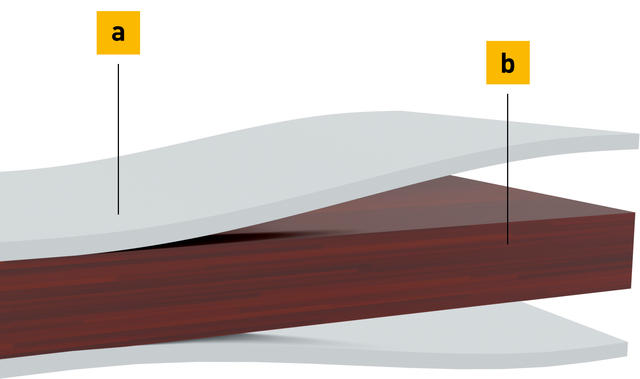 Material
The tabletop is extremely hardwearing and was designed for outdoor areas. The base material is a high-pressure laminate (HPL) comprised of melamine resin, making it extremely resistant to the weather. The base bracket is made of aluminium anodised in EV1.

a Weather protection & finish
b Acrylic polyurethane resins
---
Care
The tabletop is easy to clean. Warm, clear water, a soap solution and a sponge is all you need for normal levels of dirt.
---
Suitable item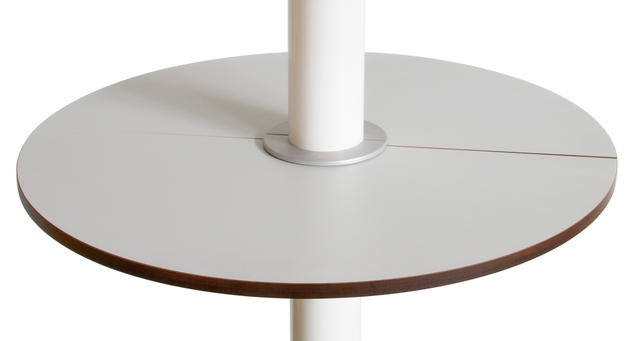 Mountable high table
for SCHATTELLO in white
Article-No. 357453
for SCHATTELLO in grey
Article-No. 357454
---
Do you have any questions or feedback?
Please use our contact form, write us an email, or just give us a call. We're looking forward to being able to help you!